Preserve Your Smile Investment
When it comes to replacing missing teeth, dental implants are the preferred option today. Nothing looks, feels or functions more like natural teeth. Nothing can better restore your quality of life and your self-confidence. Dental implants are built to last—they never develop decay or root canal infections. What's more, the success rate of implants nationwide is an impressive 98%. They're truly a smile investment. Dental implants can still fail, however. Poor dental work such as failed grafting procedures, bad extractions, bad bridgework, and improper surgical placement can all play a role. Peri-implantitis, the most common cause, is one that you have control over. Whatever the reason, we're the team to choose if you have failing dental implants in Chico, CA.
Warning Signs of Failing Dental Implants
Overcoming Peri-Implantitis
Peri-implantitis is the infection of the gum tissue around a dental implant, similar to gum disease. If left untreated this condition can lead to gum loss and bone loss. Without a healthy support structure, your dental implant can loosen and even fall out. We perform peri-implantitis treatment by eradicating all traces of infection from the area. If your peri-implantitis has reached an advanced stage, we'll preserve your dental implants by thoroughly destroying bacteria below the gumline and also by removing any untreatable diseased tissues. If the jawbone has deteriorated, we can rebuild it through bone grafting and other treatments, as needed, to reestablish a firm foundation for your dental implants.
Avoiding Peri-Implantitis
If you're experiencing any symptoms of peri-implantitis, contact us right away. There are also some steps that you can take to prevent them from occurring in the first place. Brushing and flossing as recommended can help you avoid most dental health problems, whether or not dental implants are part of the picture. Always remember: Your gum health relies on regular brushing and flossing as much as your dental health does. Tobacco use can also contribute to peri-implantitis and many health complications. Through good habits, you can protect your smile investment for the long term! We complete your dental implant surgery right in our office while you're comfortably under sedation. This surgery is precise with help from guided technology and will be completed in just a few hours. In many cases, we can provide new temporary teeth or modify your existing denture, so you'll have functional teeth as you heal. When this recovery phase is complete, your final set of teeth will be precision-crafted to meet your exact specifications along with our clinical recommendations to optimize long-term function and aesthetics. Once this restoration is attached to the implants, you can experience better function, greater confidence, and an improved quality of life—for life!
candidate for dental implants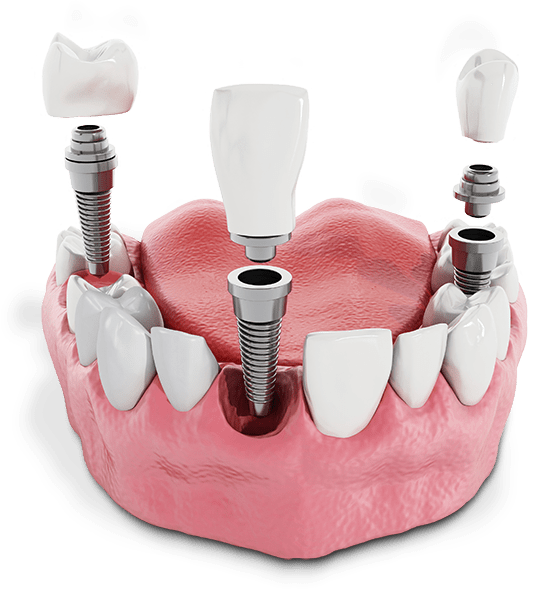 Answer the Following Questions To Learn more about our pricing and financing options.